INdIGO Project launches Good Practice Guide on collection and recycling of discarded fishing waste
The INdIGO European project is working to reduce plastic from the fishing industry which might end up in the sea. The project has recently launched its Good Practice Guide aimed at assisting the public, beach clean organisations and volunteer groups in good recycling habits. The guide was produced by the University of Plymouth who are a key partner in this important project.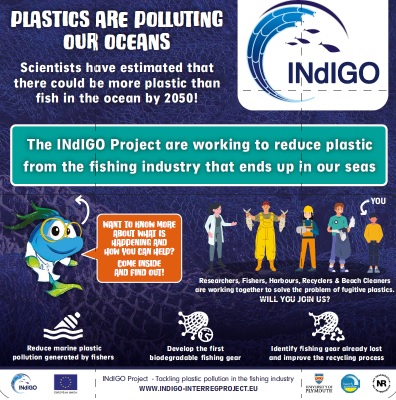 The Good Practice Guide has been designed as an informative, illustrative and easy-to-read leaflet for children, volunteers and beach clean organisations to learn about the effects of waste plastic in the oceans, the collection facilities available to take fishing gear waste, the different stages of recycling of fishing equipment and the ability to make new products from recycled plastics.
The new Good Practice Guide informs the public about the dangers of plastics polluting the oceans, the benefits of recycling plastics to create a circular economy, the processes required to collect, sort, transport and recycle plastics, as well as the actions that all of us can adopt to help reduce the problem.
The Guide uses an interactive 'infinity fold' design that can be opened out continuously through the stages from waste to new products, mirroring the repeated use cycles of well-managed plastics.
The leaflet also informs people about the Fish and Click app which enables beach cleaners to log discarded fishing gear as part of the INdIGO Citizen Science research. The new guide also gives details about the new biodegradable fishing nets which are being developed by researchers and industry partners in the project, to provide a more sustainable future for fishing activities.
For more information please click here where the Good Practice Guide can be downloaded and there are a number of instructional videos regarding the recycling of fishing gear. The web page also gives information on products which are currently being made from recycled fishing nets including surf combs, leggings, coffee cups and hand planes. The guide also gives information on how to get involved in local beach clean events.
Led by the University of South Brittany, the INdIGO project will reduce long-lasting plastic waste in the Channel area through the development of biodegradable fishing gear, as well as improving habitat quality and maintaining biodiversity.
Six research organisations (Universities of South Brittany, Plymouth and Portsmouth, IFREMER, CEFAS and SMEL) and four private partners (NaturePlast, Filt, IRMA and MSE International) are collaborating in the development of prototype biodegradable fishing gear leading to subsequent adoption by the commercial fishing industry. The project is also working to improve the prevention and management of pollution generated during manufacture and develop an application to locate fishing gear that is already lost. The INdIGO project covers all aspects of net development including the supply chain, manufacturing, prototype development, testing and technical and economic analysis.
INdIGO is a European project funded by the European Regional Development Fund (ERDF) as part of the Interreg France (Channel) programme. The project will run until 2023 and has a total budget of Euro 4.2M. For more information on the INdIGO project please visit the project website at: http://indigo-interregproject.eu/en/
To be kept informed of the project as well as events and opportunities please sign up to the INdIGO Interest Group at: https://www.marinesoutheast.co.uk/indigo/